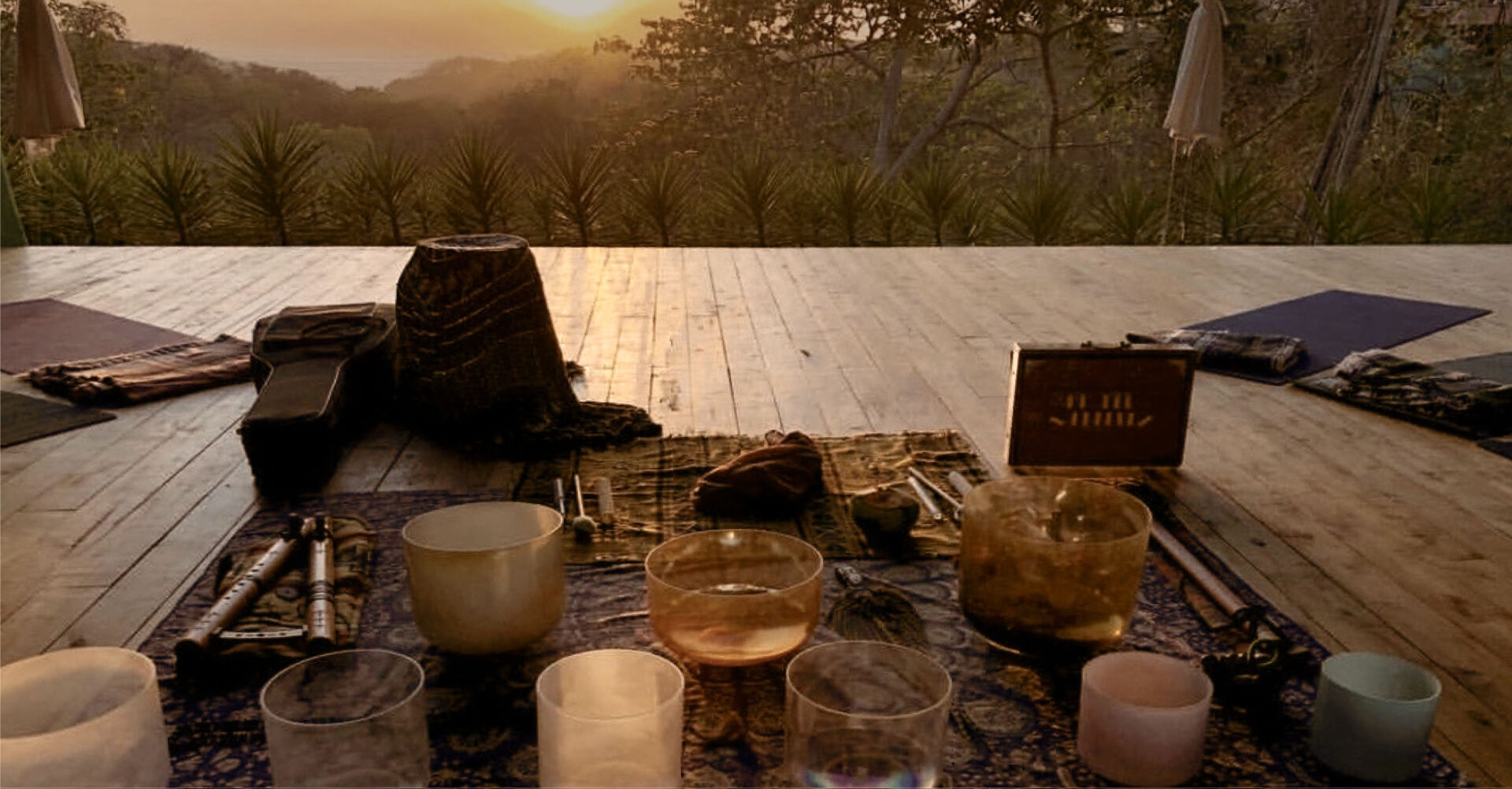 My first sound journey took me to a desert landscape with visuals of an old man on a foot journey with a long white beard wearing a robe using a walking staff with temple bells chiming with each step he took. The same journey took me to a far off temple in the mountains of China. Sound Journey's are for groups who wish to experience entrainment into stable positive vibrations using sacred instruments as a tool to transcend the monkey mind. Entraining into stable frequencies of harmony through an enchanted earth and sky domain brings us to a state of creativity born from the natural state of being untainted by the normal busy flow of thoughts we are patterned into.
Ceibo Sounds uses instruments such as Himalayan Crystal Quartz singing bowls; Tibetan Singing bowls as well as instruments from Africa, Peru and many meditation droned instruments from India. Through the use of a traveling temple Ceibo made from driftwood collected at a local river mouth in Nosara, Costa Rica, Ceibo offers mystical sound journey's to yoga retreats, festivals, ceremonies and private groups throughout Costa Rica. An altar is also set up on the rustic temple with incense and symbols of mediation.  Sat Yoga Ashram shares their experience with a recent Ceibo Sound Journey in this beautiful mountain Ashram near Dominical, Costa Rica.
A soothing class of complete relaxation that's combined with live healing sounds that emphasize softness and self-compassion. It is a non-strenuous experience where you will lie in a comfortable position on your mat with props to help assist you while receiving a sound bath with healing vibrations from Ceibo's collection of crystal and alloy Tibetan bowls and other sound healing instruments of the world.
This Sound Journey is designed for retreats seeking a profound experience helping to elevate the collective consciousness of the group as a whole.  Enter into a mystical sound journey of positive, stable vibrations created from Ceibo's collection of instruments from around the world. Instruments include Crystal Tones alchemy singing bowls, temple bells, Tibetan singing bowls, Indian Shruti Box, wind chimes from Japan and shells from Peru and Africa. Melt into this unique sound journey and observe the dissolving effect on the barriers that block us from our natural flow. Using the teachings from nature, Ceibo offers a meditative, calm and relaxing sound healing experience. This is an opportunity to bond with your retreat partners offering rejuvenation during long trainings. There is always a fun camaraderie while everyone is preparing to enter into the sound journey and afterwards sharing their personal experiences, visuals and sensations.  Sound Journey's for retreats and groups.
The private sound baths are designed for anyone interested in a more intimate setting where there is time and space to address personal blockages or simply to create a meditative experience while shifting your awareness onto your natural state of being. Ceibo will spend a few minutes with his clients discussing areas that might need healing before beginning the sound bath.  When the consultaion is complete, he will intuitively be guided to use specific insturments based on his clients needs.  Using the teachings from nature, Ceibo offers a meditative, calm and relaxing sound healing experience.